English |
Spanish
The updated guide can be found a:  http://www.usody.com/?page_id=679
Objectives
We will go through the process of erasing data-storage units (UsodyWipe) or basic quality control (UsodyRate). More specifically, we will obtain the hardware specs of the computer to be processed, then we will perform a smart test, stress test and some benchmarks, or a data erasure process. After finishing the process we will upload the results to a public account. Finally, we will view the results through the web interface (Inventory).
Requirements
A PC to erase or a server PC where you can connect hard drives that you want to erase, the demo does not work with Mac or custom-built PC, i.e. computer without brand. This PC must be connected to the Internet with an Ethernet cable, WiFi does not work yet.
A pen–drive USB with at least 500MB total capacity.
Access to BIOS to boot from USB stick.
Steps
The following 6 simple steps will guide you through the process.
1 – Prepare your USB
Download the ISO file depending if you want a basic erasure with UsodyWipe or a basic quality control with UsodyRate.

UsodyWipe-Demo(click to download) . Basic erasure with a software-based fast non-100%-secured way of erasing data storage, using shred. More info: https://en.wikipedia.org/wiki/Shred_(Unix).
UsodyRate-Demo (click to download). Basic quality control, using a set of tests and benchmarks on the main components of the device.

You will need an application to write the ISO into your USB stick. If you don't have one already, we recommend Etcher
Burn the downloaded ISO file to your USB stick.
2 – Boot from your USB
Most computers will boot from USB automatically. Simply insert the USB flash drive and either power on your computer or restart it. You should see a welcome window of eReuse.org Workbench live as below.
If your computer doesn't automatically boot from USB, try holding F12 when your computer first starts. With most machines, this will allow you to select the USB device from a system-specific boot menu.
F12 is the most common key for bringing up your system's boot menu, but Escape, F2 and F10 are common alternatives. If you're unsure, look for a brief message when your system starts – this will often inform you of which key to press to bring up the boot menu. If none of the keys above works, please consult this guide.
3 – Retrieve and upload information
The software, Workbench, is now processing your computer. Your screen should show information similar as below. At this step, you only have to ensure that your computer is connected to the Internet with an Ethernet cable. At the end of the process, the device information will be automatically uploaded to Inventory (
app.usody.com
).
4 – Obtain device ID
When the process of erasing the data and uploading the erasure certificate is finished, your screen will show information similar to the screenshot below. Note that an URL is shown after
Uploaded.
In our example, the URL is
https://api-beta.devicetag.io/devices/129.
The number
129
is the ID of the device. Note down the number as shown on your screen, we will use it to find the device information in the web application later.
If your device is custom-built, you will get an error. For this demo, custom-built devices are not supported.
5 – Login into the Inventory
If you have a personal USOdy account, login at https://app.usody.com with your account email and password.
If you don't have a USOdy account, login at https://app.usody.com with User: hello@usody.com, password: usody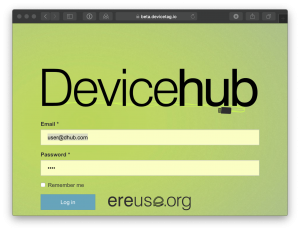 6 – View your wiping record
Search for your device by entering the device ID from the previous step in the search field.
Click on the first result to view the device's information.
On the right column, click export button.
Click on Erasure certificate.
Optional. In the button "copy public link" you have the delete report publicly shareable.
SPANISH La versión actualizada puede encontrarse en:  http://www.usody.com/?page_id=679
Objetivos
Pasaremos por el proceso de borrado de unidades de almacenamiento de datos (UsodyWipe) o el control de calidad básico (UsodyRate). Más específicamente, obtendremos las especificaciones de hardware del ordenador a procesar, y luego realizaremos una prueba inteligente, una prueba de esfuerzo y algunos puntos de referencia, o un proceso de borrado de datos. Después de terminar el proceso subiremos los resultados a una cuenta pública. Finalmente, veremos los resultados a través de la interfaz web (Inventario).
Requisitos
Un PC para borrar o un PC servidor donde puedes conectar los discos duros que quieres borrar, la demo no funciona con Mac. Es PC a borrar debe estar conectado a Internet con un cable de red ethernet.
Un pen-drive USB con al menos 500MB de capacidad total.
Acceso a la BIOS para arrancar desde la memoria USB.
Pasos
Los siguientes 6 pasos le guiaran en el proceso.
1 – Prepare su USB con la herramienta de USOdy
Primero de todo descarga el archivo ISO (herramienta) dependiendo si quieres un borrado básico debes escoger UsodyWipe y si quieres realizar una valoración del estado del ordenador necesitas usar UsodyRate.

UsodyWipe-Demo(click para descargar). Borrado básico de forma rápida pero sin certificado de borrado de datos, usando el comando shred. Más información: https://en.wikipedia.org/wiki/Shred_(Unix).
UsodyRate-Demo (click para descargar).Control de calidad básico, usando un conjunto de pruebas y test sobre los principales componentes del dispositivo.

Necesitarás una aplicación para grabar la ISO en tu memoria USB. Si aún no tienes una, te recomendamos utilizar Etcher
link a la página oficial.
2 – Arranque de la herramienta desde su USB
La mayoría de los ordenadores se inician automáticamente desde el USB. Simplemente inserte la unidad flash USB y encienda el ordenador o reinícielo. Debería ver una ventana de bienvenida de eReuse.org Workbench como se muestra a continuación.
Si el ordenador no se inicia automáticamente desde el USB, intente mantener pulsada la tecla F12 cuando el ordenador se inicie por primera vez. En la mayoría de las máquinas, esto te permitirá seleccionar el dispositivo USB desde un menú de arranque específico del sistema.
F12 es la tecla más común para abrir el menú de arranque de tu sistema, sino Escape, F2 y F10 son alternativas bastante comunes tambien. Si no estás seguro, busca un breve mensaje cuando se inicie tu sistema – esto a menudo te informará sobre qué tecla debes pulsar para abrir el menú de arranque. Si ninguna de las teclas anteriores funciona, consulta esta guía (link a la guía).
3 – Recuperar y/o subir la información al inventario
El software, Workbench, está ahora procesando tu ordenador. Su pantalla debería mostrar información similar a la que se muestra a continuación. En este paso, sólo tienes que asegurarte de que tu ordenador está conectado a Internet con un cable Ethernet. Al final del proceso, la información del dispositivo se cargará automáticamente en el inventario.(
app.usody.com
).
4 – Obtener la identificación del dispositivo
Cuando el proceso de borrado de datos y/o la valoración/diagnostico del dispositivo haya terminado, su pantalla mostrará una información similar a la que se muestra a continuación. Tenga en cuenta que se muestra una URL después de "Uploaded". En nuestro ejemplo, la URL es https://api.app.usody.com/db1/devices/590. El número 590 es el ID del dispositivo. Si visita esta página web ya verá la información de funcionamiento de su ordenador y ya podrá compartirla.
5 – Inicie sesión en el inventario
Si tienes una cuenta personal de USOdy, entra en https://app.usody.com con el correo electrónico y la contraseña de tu cuenta.
Si no tienes una cuenta privada de USOdy, entra en https://app.usody.com con la cuenta pública, la cual el usuario es hello@usody.com y la contraseña:usody.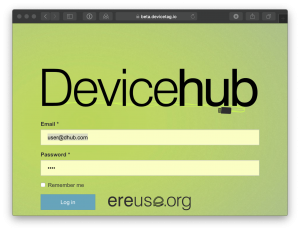 6 – Mirar la ficha de información del dispositivo
Aquí recuperamos la URL que obtenemos en el paso 4 o buscamos el dispositivo introduciendo el ID del dispositivo del paso 4 en el campo de búsqueda.
Despues hacemos clic en el primer resultado para ver la información del dispositivo.
Y para obtener otra vez la URL, una vez selecionado el dispositivo, en la columna de la derecha, haga clic en el botón de exportación (Export)
A cotinuación si presionamos el botón "copy public link" tendras el link de la ficha con la información del dispositivo.