ES/EN
La campaña de recogida de ordenadores para su restauración y recirculación para ONG que organizamos el pasado noviembre junto a Fundacion real dreams (donalo.org), el Cercle Tecnològic de Catalunya (CTecno) y La Nau-Banc de Productes no alimentaris, ha sido elegida como finalista de los Premios Europeos de Prevención de Residuos en la categoría empresa. En total, más de 20 entidades y empresas dieron un total de 2.339,52 kilogramos de dispositivos digitales que evitaron la generación de 35.943,73 kilogramos de emisión de CO2 a la atmósfera. Después de un proceso de restauración, el material informático está siendo reutilizado para 13 entidades beneficiarias.

Para la campaña, organizada en el marco de la Semana Europea de Prevención de Residuos (EWWR), se utilizaron las herramientas de eReuse.org, un proyecto que tiene la misión de evitar el reciclaje prematuro de los dispositivos digitales vía la reutilización ya través de un estándar de trazabilidad y calidad que permite asegurar el reciclaje final y certificar los productos de segunda mano. El uso de estas herramientas ha permitido monitorizar los lugares geográficos, los agentes de reutilización y los receptores finales, así como proporcionar indicadores ambientales y sociales en las empresas e instituciones donantes.

En su post, la EWWR valora el triple impacto de la iniciativa: protección del medio ambiente, estimulación de la economía local (dado que la renovación de los dispositivos y su reventa a ONG a través de precios subvencionados permite generar puestos de trabajo) y un aspecto social que aborda la brecha digital en el tercer sector. Unos impactos que son posibles gracias al uso correcto de la Regla de las 3R, que permite maximizar la vida útil de los productos, minimizar la generación de residuos y generar economía circular.

La Semana Europea de Prevención de Residuos, promovida por la comisión Europea y el Comité de las Regiones, entre otros miembros, celebró su novena edición entre el 18 y 26 de noviembre de 2017 con más de 13.410 acciones en toda Europa. De éstas, cada territorio coordinador escogió 5 acciones, una por cada una de las 5 categorías, que fueron elevadas a un Jurado experto europeo que hizo un segundo filtro designando tres acciones finalistas por cada categoría. En la categoría de empresas, la campaña coordinada por eReuse, Fundación real dreams y CTecno, enmarcada dentro del programa de esTICenllaçat, competía con Hertel Verwaltung GMBH (Alemania) y Opel España. Al final, el Jurado escogió la primera acción.

Más información:
Nota de prensa de la EWWR
Nota de prensa Generalitat de Catalunya
ES/EN
The campaign for the collection of computers for restoration and recirculation for NGOs organized last November by ereuse.org, Fundacion real dreams (donalo.org), Cercle Tecnològic de Catalunya (CTecno) and LaNau, has been chosen as finalist for the European Prizes for the Waste Prevention in the company category. In total, more than 20 entities and companies gave a total of 2,339.52 kilograms of digital devices that prevented the generation of 35,943.73 kilograms of CO2 emission into the atmosphere.
After a restoration process, the computer equipment is being reused by 13 beneficiary entities.
For the campaign, organized within the framework of the European Week for Waste Reduction (EWWR), they were used eReuse.org tools, a project whose mission is to prevent premature recycling of digital devices through reuse and through a standard of traceability and quality that allows to ensure the final recycling and certify the products of second hand. The use of these tools has allowed monitoring of geographic sites, reuse agents and final receivers, as well as providing environmental and social indicators to donor companies and institutions.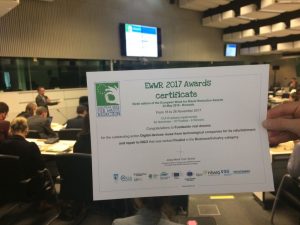 In his post, the EWWR also assessed the triple impact of the initiative: environmental protection, stimulation of the local economy (since the renewal of the devices and their resale to NGOs through subsidized prices allows to generate jobs) and a social aspect that addresses the digital divide in the third sector. Impacts that are possible thanks to the correct use of the 3R Rule, which allows maximizing the useful life of the products, minimizing the generation of waste and generating circular economy.

The European Week for Waste Prevention, promoted by the European Commission and the Committee of the Regions, among other members, celebrated its ninth edition between the 18th and 26th of November 2017 with more than 13,410 actions throughout Europe. Of these, each coordinating territory chose 5 actions, one for each of the 5 categories, which were elevated to a European expert jury who made a second filter designating three finalist actions for each category. In the category of companies, our campaign, framed within the program of ICT Linking, competes with Hertel Verwaltungs GmbH (Germany) and Opel Spain.

More information:
Press release from the EWWR
Press release Generalitat de Catalunya